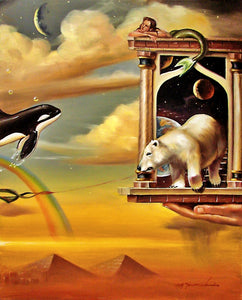 MAO-From Glory to Glory-B 24"x30" Oil on Canvas
From Glory To Glory-B 24x30 
Price Request - Use Contact Form with Price/Art Name in Subject Line:
24x30 Original Oil on Stretched/Canvas 
Certificate of Authenticity
Original Sketch ($1400 Value)
Free Shipping within Contiguous United States
Summary: "As we put our trust in God's hand who upholds us though the waves of circumstance splash around us as we give Him praise we are lifted up. Though their are elements behind the scenes seeking to hinder us. As we He opens new opportunities and guides us through the storms and leads us to new beginnings and from glory to glory."
Sales Tax May Apply